welcome to the wine cellar
One of Roberto's biggest passions is, without a doubt, excellent wine. For the first time, he invites you into his wine cellar, where he will share all his favourite labels with you.
In Italy, there are some 1200 local grape varieties. throughout his career, Roberto has made it his mission to seek out the most uncommon and noble of labels, searching meticulously from the North of Italy to the Southern most tip, from the West Coast to the East.
Along the way, Roberto has learned many things about the wines he has discovered from the countless wine producers, farmers and sommeliers he has met along the way. Some have been extremely knowledgeable, others a little more unreliable, but Roberto can name every one.
The story began in Nozzole, where he met Ambrogio e Giovanni Folonari; two amazing people from yesteryear. He then had the pleasure to dine with the Marchese Antinori, an admirable man who managed to leave every guest at his table speechless, simply by talking about his family history - winemakers for 22 generations.

Another important moment was when Roberto dined with Renzo Cotarelli, the CEO of Antinori, an extremely clever man whose knowledge goes above and beyond simply the running of a successful company.

And then there are men like Daniele Parma, a wise man who has spent most of his life in the vineyards creating some truly timeless wines, The Specogna brothers with their amphitheater "Bernardo's Vineyard" or Elio Sandri who produces the most unbelievable Barolo. Also Conterno and Fantino, Chiara Boschis, Roberto Conterno from Giacomo Conterno and the Master of all times, Angelo Gaja.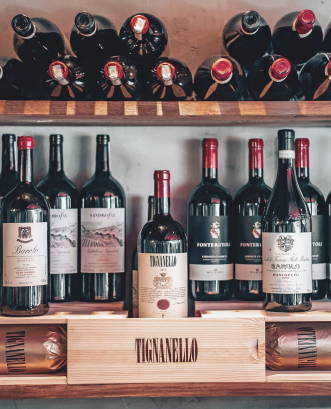 These are all amazing people with whom Roberto has had the pleasure and the honour to drink and dine as he has made his journey around the vineyards of his homeland.

With 30 years' experience, Roberto has learnt the importance of education. But there are some things you can only learn from experience.
IN HIS OWN WORDS...
My Wine Cellar is at your disposal...
cin cin!"